Vermont Society of Certified Public Accountants
Students
FREE Membership for College Students!
Get a head start on your accounting career! Join other college students who are enjoying the benefits of VTCPA membership. The VTCPA offers a free student membership to any non-CPA residing in or enrolled as a student in an accredited college or university in Vermont.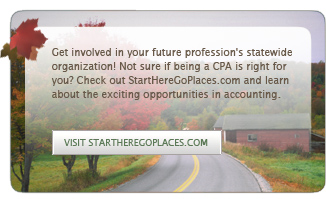 Member Benefits include:
Eligibility to Apply for CPA Exam Review Scholarships
Eligibility to Apply for CPA Exam Fee Reimbursement Scholarships
Networking with CPAs
Learning about the CPA profession
Access to the Members Only section of our website
Email updates pertaining to the CPA profession
Opportunity to join a committee or task force
Discounts on CPA exam review courses

Becker CPA Review VTCPA Student Members and CPA Candidates receive up to $300 off the full four-part course tuition for either Live, Online, or CD-ROM self-study review course.
Surgent CPA Review

Pass the CPA Exam with confidence! Surgent CPA Review utilizes an award-winning learning platform, A.S.A.P. Technology™, a proprietary adaptive approach to studying, to help students and professionals better prepare for the CPA Exam while studying less. Plus, thanks to Surgent's ReadySCORE™ feature, you will know how you're performing as you study, as well as have an accurate measurement of what you'd score on the exam if you were to take it that day.

Enrollment includes access to 350+ video lectures from engaging instructors, a test bank of more than 7,700 multiple-choice questions, over 400 task-based simulations, customized study guides, and unlimited practice exams. Plus, Surgent's courses never expire, so students have unlimited access until they pass!

VTCPA members can receive a 35% discount on any of Surgent's 4-part CPA Review courses with code VTCPASK53 at checkout.

Visit https://www.surgentcpareview.com, email cpareview@surgent.com, or call (877)-721-3565 to learn more.

Gleim CPA Review

VTCPA Members Receive a 20% Discount on Gleim CPA Review. Click here to receive your discount on Gleim's Traditional & Premium Review Systems.

Gleim is committed to helping you pass your exams. Gleim has helped millions of candidates pass their accounting certification exams since 1974. Authored by professional educators, Gleim CPA Review courses provide the tools needed to pass the CPA Exam.

The Gleim Premium CPA Review Course includes the following:

SmartAdaptTM Intelligently guided review
Access Until You Pass® guarantee
10,000+ Multiple-choice questions
1,300+ Task-based simulations
350+ Simulations with Exhibits
Digital and physical books
Expert-led Gleim Instruct videos & Audio lectures
Guidance from Personal Counselors
This Way To CPA (thiswaytocpa.com) – A place for upcoming and newly minted CPAs to learn the truth about the accounting profession.
Start Here, Go Places (startheregoplaces.com) – Get involved in your future profession's statewide organization! Not sure if being a CPA is right for you? Check out StartHereGoPlaces.com and learn about the exciting opportunities in accounting.
CPA Candidates
The VTCPA has no connection to the CPA exam. Candidates wishing to sit for the CPA exam should contact NASBA Exam Services at 1–800–CPA–EXAM or visit NASBA. Please do not contact the VTCPA for exam information. If you need information about becoming a CPA in Vermont or about the practice of accounting in Vermont, please contact the Vermont Board of Public Accountancy.